The Kumho BMW Championship reached mid-season, with Oulton Park in Cheshire hosting Rounds 5 and 6 of the 2020 series on the full International Circuit. The format was, as has become the norm this year, qualifying on Saturday morning followed by both races in the afternoon.
A number of new drivers were present with long time absentees, Ralph Kirk and Sean Foley coming out in Class C and B respectively. Peter Miller was back after early season mechanical issues and Lucky Khera managed to fit in a day with us having no Ferrari or Porsche races this weekend, hard life for some but really nice to have a catch up the man described as "The fastest Punjabi on track!" (A term coined by his friend and fellow racer Lee Frost.) A totally new face to the championship was Jeff Nixon, known to many UK racers from his long-time commitment as a race scrutineer, as expected his car was immaculately turned out!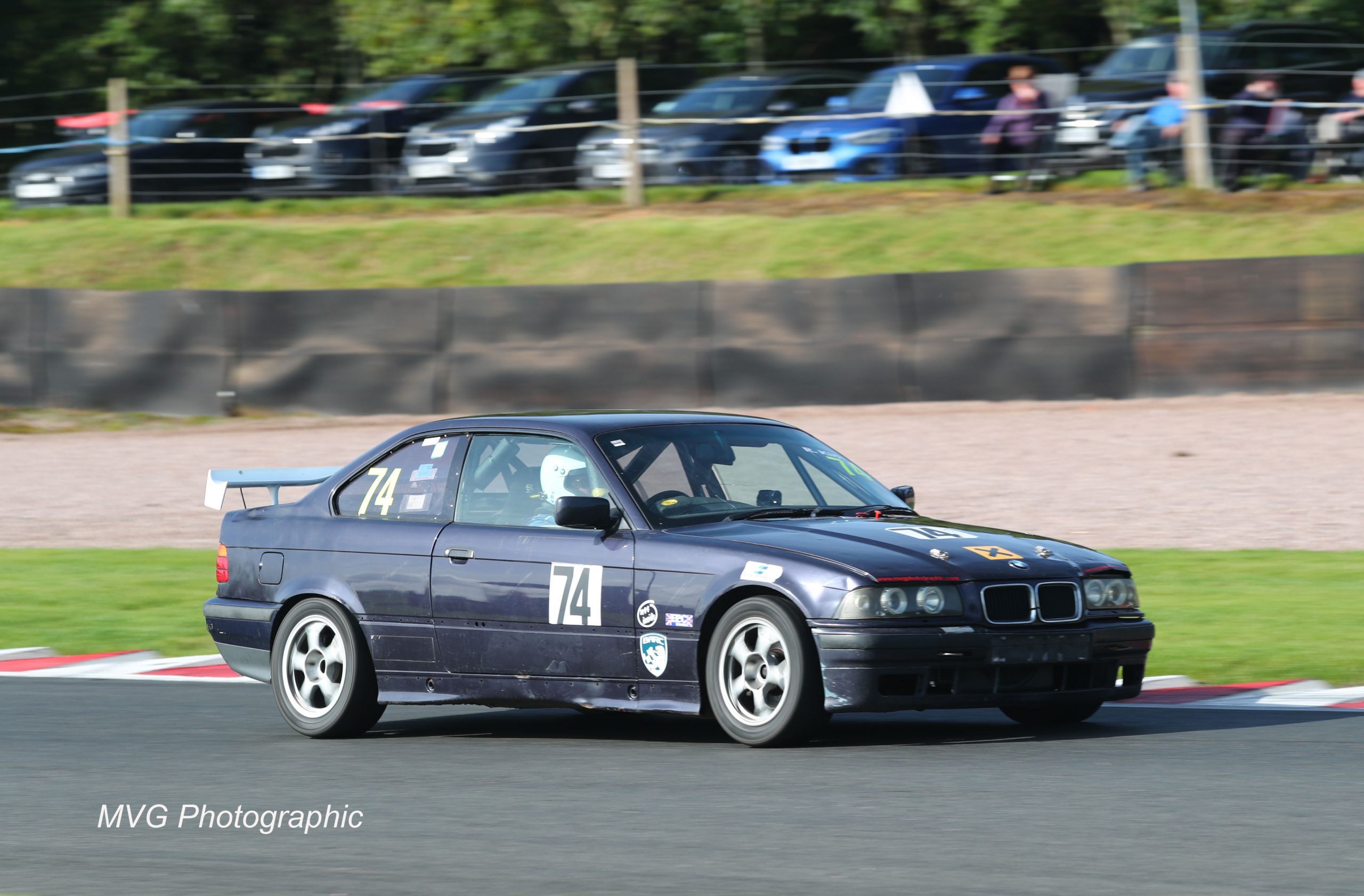 As you would expect the entire top ten in the championship race were present with James Card, Brad Sheehan, Darren Morgan-Owen, Bryan Bransom and Jas Sapra contesting Class A at all Rounds to date. Michael Pensavalle returned after having suffered mechanical issue at Brands Hatch and having to miss Snetterton. Front running Class B drivers Sunny Gill and Russ Dack were up against Trevor Ford, Nigel Williams and the returning Peter Miller as previously mentioned, Sean Foley. Class C was represented by newcomer Jeff Nixon and Ralph Kirk, while the only driver in invitation class was Ben McClelland.
Qualifying took place mid-morning on a fast drying track and James Card took full advantage to claim pole with his very last lap of the 15 minute session. Brad Sheehan was alongside him on the front row, whilst Mike Pensavalle and Darren Morgan-Owen shared the 2nd row. Jas Sapra was 5th with Russell Dack 6th in the first Class B entry. Bryan Bransom was on the 4th row alongside Class B leader Sunny Gill, whilst Ben McClelland and Peter Miller completed the top ten. Sean Foley, an out of sorts Trevor Ford, Ralph Kirk, Jeff Nixon and Nigel Williams completed the grid before Lucky Khera was added to the rear of the field having not been on track during qualifying!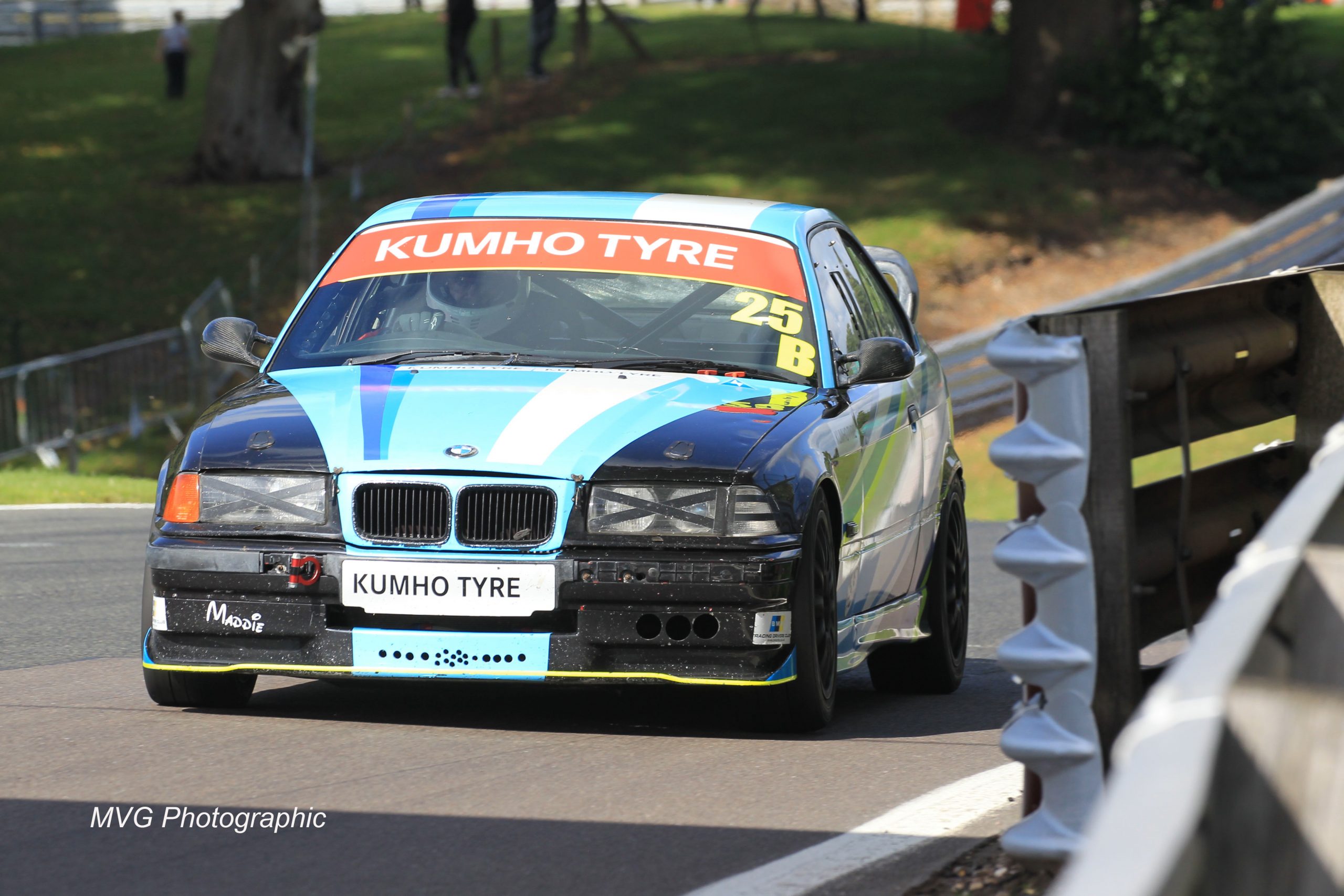 Michael Pensavalle made a lightning fast start when the red lights went out and pole sitter James Card was forced out wide on the first corner leaving room for Brad Sheehan and Darren Morgan Owen to also benefit. The was the position at the end of Lap 1 was as follows; Lucky Khera living up to his nickname having climbed to 5th from the back of the grid. Russell Dack had taken the Class B lead with 7th on the road and Ralph was ahead of Jeff in the fight for Class C points. By Lap 2 Lucky was on the tail of the leading two while James was trying to get to grips with Darren for 4th place. Battles throughout the field were entertaining for the spectators and interesting for the drivers. Mike Pensavalle managed to pull away from Brad late in the race after an incident late in the race caused damage to the front of Lucky's car. Bryan Bransom had retired to the pits by this point with a spongy brake pedal, not something you want at Oulton Park! Mike won from Brad with Lucky losing ground but still hanging onto 3rd and the last podium place. James lost out to Darren for 4th, Jas took 6th, Sunny shaded Russ for 7th and Class B by 1/10th second, Peter Miller & Sean Foley completed the top ten, while Ralph Kirk won Class C in 12th overall.
The final BMW race was scheduled for late afternoon and so it proved. Lucky was conspicuous by his absence having suffered a severely damaged radiator in his race 1 bump. No spare meant no race, so he and Jas who retired after one lap decided to call it a day. Mike Pensavalle led from start to finish, but Brad Sheehan REALLY made him work for it, spending the entire race trying to get into his boot! James Card reversed his Race 1 fortunes and finished 3rd with Darren the last Class A car to finish in a distant 4th. Russell Dack took Class B with a fine 5th ahead of fellow Class B runners Sunny, Pete Miller, Sean Foley Trevor and Nigel Williams completing the Top Ten. Ralph Kirk took another Class C win from an improving Jeff Nixon. Bryan Bransom had another day to forget, having bled the brakes on his car and changed master cylinders he suffered another failure on the back straight and took to the grass before returning safely and slowly to the pits, albeit with some front spoiler damage.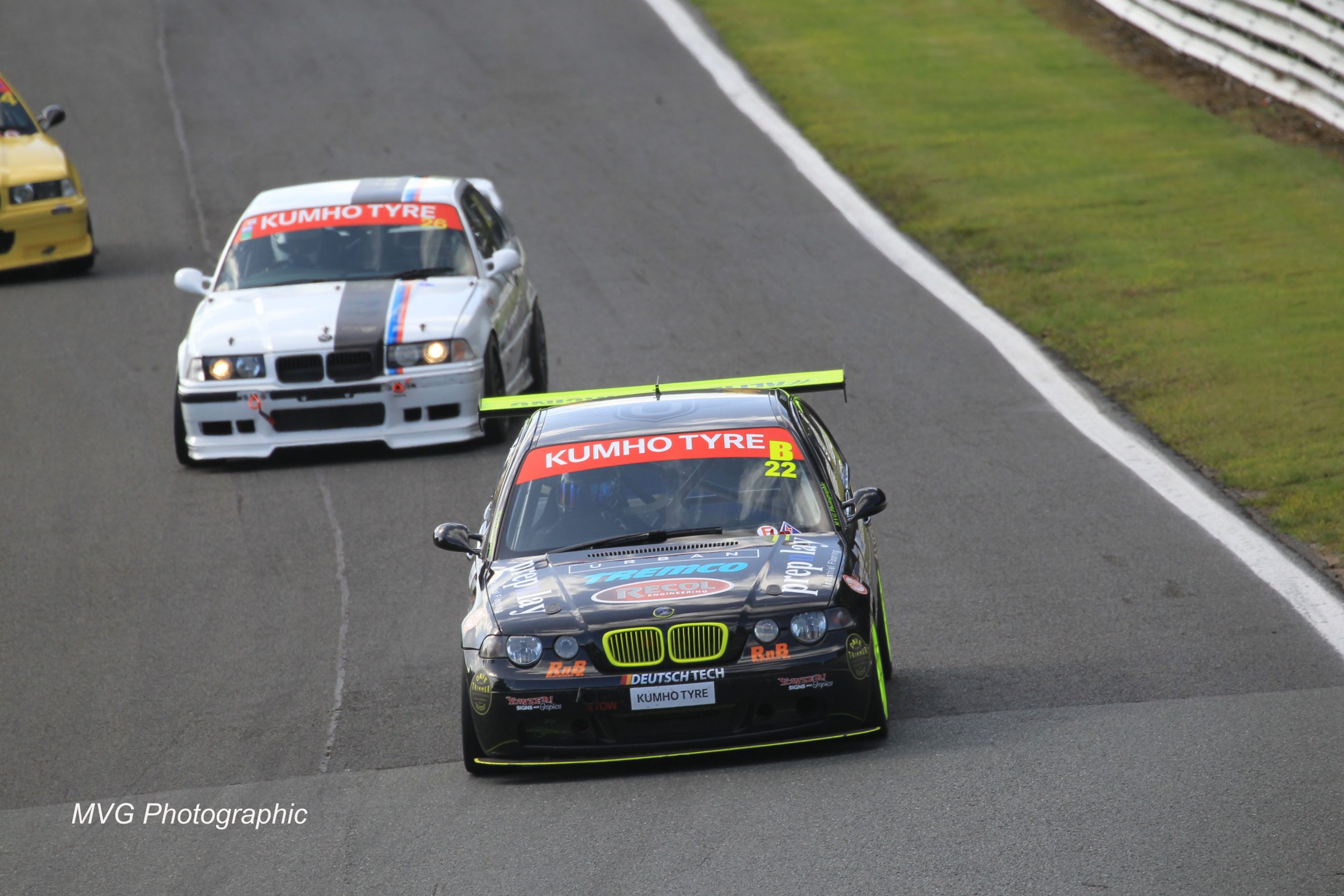 These results shake up the championship positions dispelling the myth that you have to have a megabuck Class A car to become overall champion, with Class B leader Sunny Gill now leading overall from fellow Class B challenger, Russell Dack. Class A leader James Card drops to 3rd overall ahead of Brad Sheehan another Class A driver. 5th and 6th are two further Class B racers, Trevor Ford and Nigel Williams, with the top ten completed by Darren Morgan Owen, Jas Sapra, Mike Pensavalle and Bryan Bransom, all in Class A. Ralph Kirk has leapt into the lead of Class C ahead of Jeff Nixon and Martin Schiele.
Drivers now have a four week break before the next Round at the pretty little Mallory Park circuit south west of Leicester.