The final meeting of the 2020 Kumho BMW Championship was held at Thruxton, Britain's fastest race circuit in weather conditions that had many drivers thinking that the building of an Ark was a more sensible idea than racing cars!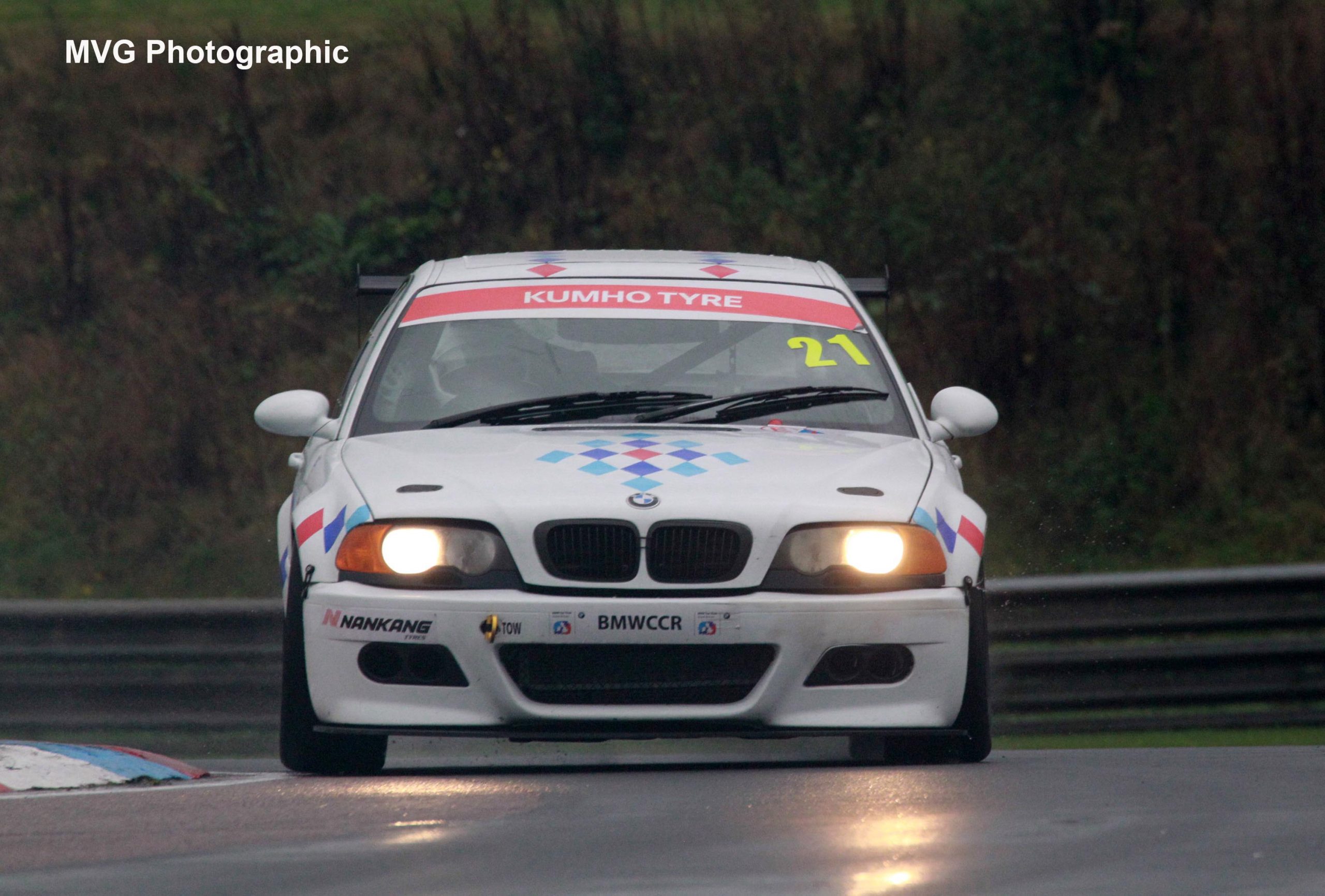 All the front runners were present apart from Jas Sapra whose car was heavily damaged in transit by some "chancer" in a Merc who was clearly under the influence of something stronger than ginger beer. After ramming Jas's trailer into the van towing it & seriously damaging the race car in the process, he was last seen legging it across the fields of Warwickshire leaving the local boys in blue to trace the owner of the Merc! This left Jas in a supporting role to Sunny Gill attempting to be the first Asian driver to win the Kumho Championship. Joint championship leader James Card was not looking overly optimistic as the Class A cars are more of a handful in very wet conditions & a number of very quick Class A cars were present, including Brad Sheehan who had to borrow a car after he was destroyed at Mallory Park by a non-BMW driver with a sad lack of brains or ability, & Darren Morgan Owen. Bryan Bransom had made a sterling effort to rebuild his Class A car after a massive shunt also at Mallory only two weeks before! Sunny had Russell Dack, Trevor Ford and Nigel Williams to contend with in Class B with a number of invitational drivers completing the field. Mike Pensavalle was the most noticeable having declared himself ineligible from scoring points at Thruxton, Gareth Montgomery and Kevin Denwood both Kumho regulars were present, as were first-timers Cavan Grainger, Andy Abrams & Chris Walton.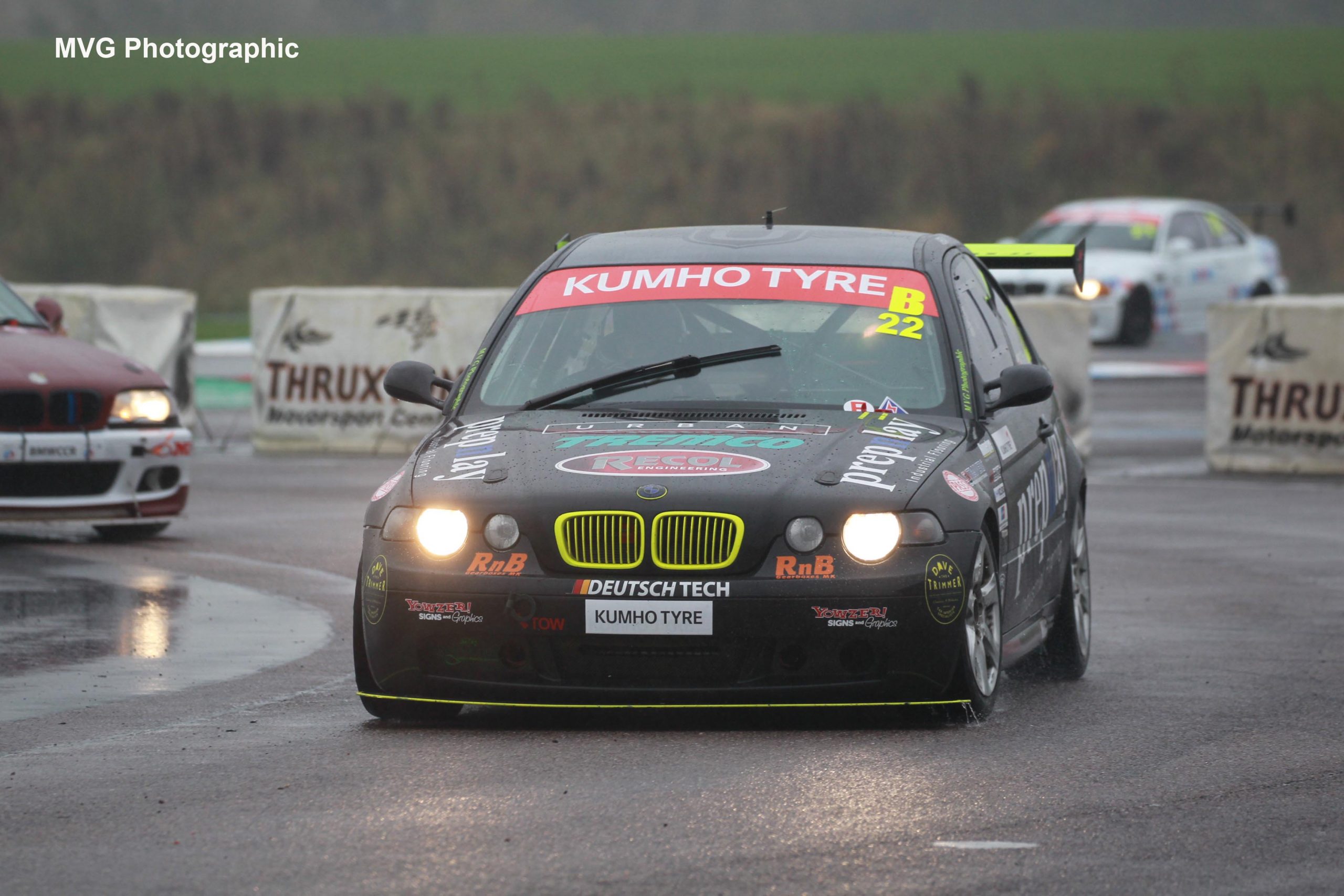 The track was damp & greasy for qualifying and rain threatened, but the drivers were all out & going for it. James Card left it late, the last lap actually to grab pole position from Darren Morgan with Mike Pensavalle & Brad Sheehan occupying the 2nd row. Bryan was alongside Russ Dack the leading Class B contender on row 3. Cavan, Kevin, Andy and Gareth the invitation drivers were next, followed by Trevor Ford & Sunny who has never raced at Thruxton before was struggling to get to grips with the flat featureless circuit in less than ideal circumstances. Novice, Chris Walton & Nigel Williams who failed to register a time completed the field.
With rain falling for the start of Race 1 Darren Morgan powered into the lead from the start from Brad Sheehan & Mike Pensavalle with pole-sitter James Card in 4th. Russell was leading Class B in 5th with Sunny already up to 7th after only one lap. Mike Pensavalle made his first pit-stop on Lap 3 but returned to the fray only to retire a few laps later. Brad had managed to snatch the lead from Darren on Lap 3 and pulled away, extending his lead to almost 10 seconds at the flag. James took 3rd ahead of Bryan getting to grips with his hastily repaired car. Russell took 5th & Class B with Sunny settling for 2nd in class. Cavan Grainger took an impressive 7th overall to win the invitational class, ahead of Andy Abrams & Gareth Montgomery, while Trevor Ford & Chris Walton completed the finishers.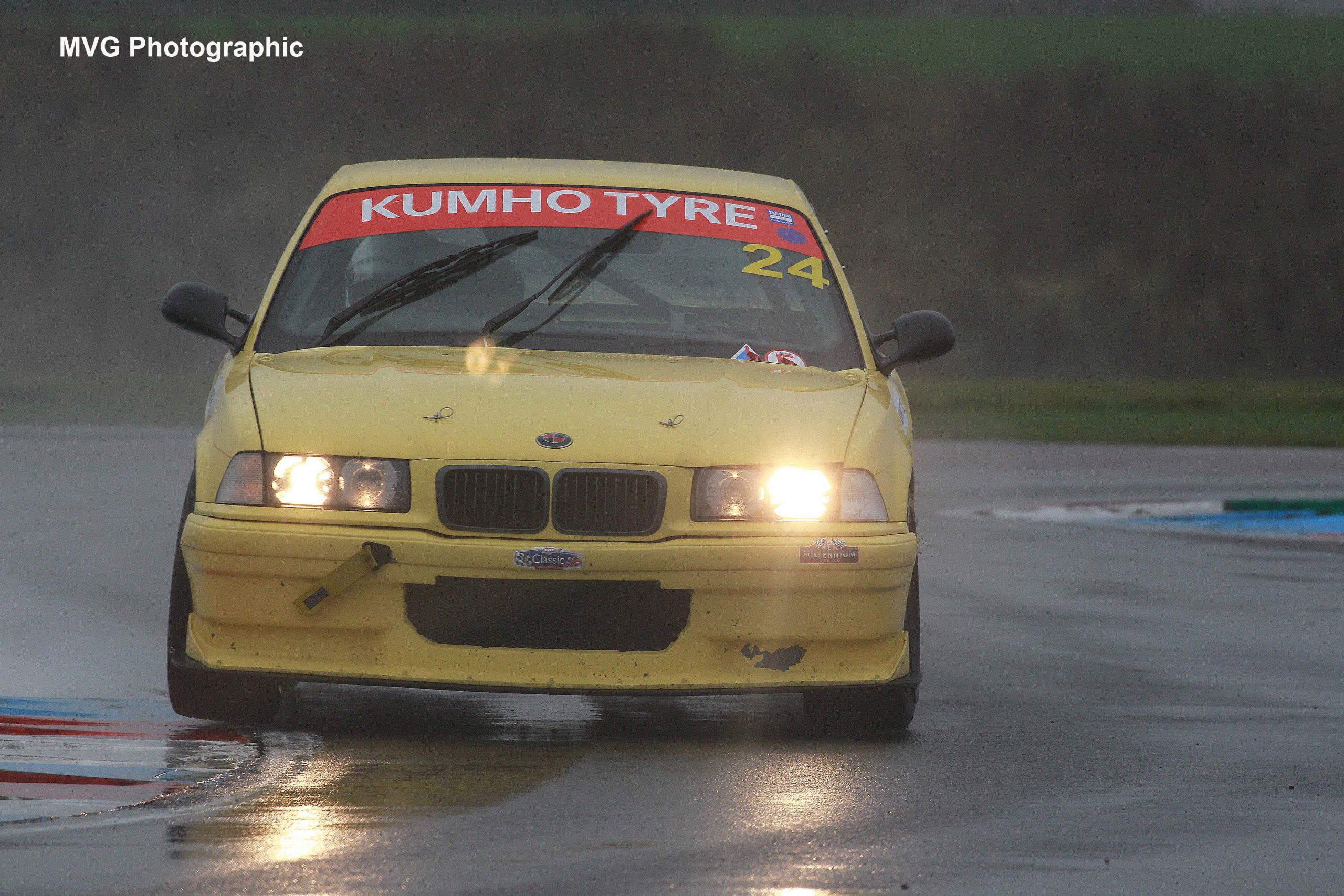 Race 2 saw the light fading as the rain got heavier…& heavier! Brad Sheehan led Darren Morgan off the line & led at the end of Lap 1 but Mike Pensavalle, from last on the grid was up to 3rd as they crossed the line having blasted past Russell & Sunny fighting it out in Class B & Class A leader James Card. By the next time past the pits Mike had displaced Darren & was hot on the heels of the race leader. Brad held him off until Lap 8 when the seemingly unstoppable Pensavalle took a lead he was to maintain until the flag. Two laps later Brad's race was run as the diff exploded and Darren was back into 2nd ahead of James Card. Russell took Class B with 5th overall ahead of the new Class B & overall 2020 Champion Sunny Gill. He was followed by the three invitational drivers Cavan Grainger, Andy Abrams & Gareth Montgomery. Trevor Ford & Nigel Williams completed the Class B runners in 9th & 10th with Kevin Denwood & Chris Walton completing those running at the finish.
The championship positions can be seen on the BMW RDC website but in brief: Overall, Sunny took the honours from Russell Dack & James Card ahead of Trevor, Darren Morgan & Brad Sheehan, with Nigel Williams, Jas Sapra, Ralph Kirk and Bryan Bransom completing the Top Ten.
Class A went to James Card with Brad Sheehan 2nd, Darren Morgan Owen 3rd, Jas Sapra 4th & Bryan Bransom 5th.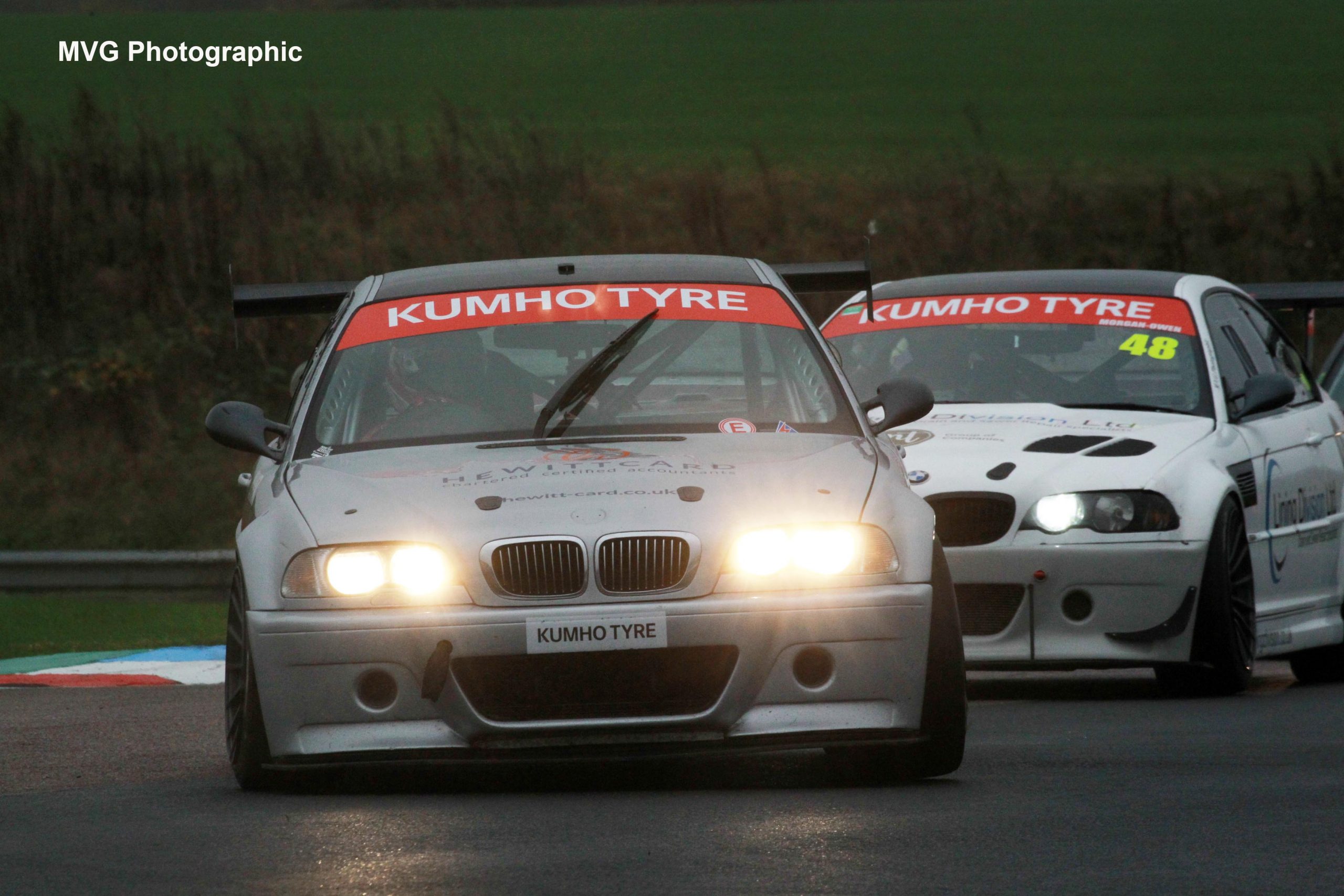 Sunny Gill won Class B to add to his overall championship with Trevor Ford 2nd, Russell Dack 3rd (due to Russell changing Class earlier in the season), ahead of Nigel Williams & late entrant Sean Foley.
Class C went to seasoned campaigner Ralph Kirk ahead of novice Jeff Nixon, Russell Dack, Ben Mason & Martin Schiele.
Plans are already afoot to make things bigger & better for 2021 after a trying year of Covid affected racing!